Deborah Dunn-Frederick
Instructor Health & Human Sciences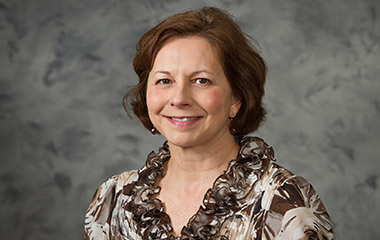 Office: Bridgewater College
Office Phone: (540) 828-5460
ddunn@bridgewater.edu

Education: B.S., Virginia Polytechnic Institute & State University in Human Nutrition and Foods; M.S., JMU in Health Sciences and Nutrition; R.D. credential earned 1990

Teaching Fields: Nutrition and Dietetics, Health and Wellness, Household Equipment and Interior Design

Research Interests: Childhood nutrition and obesity prevention, adult weight management and eating disorder prevention. Benefits and results of therapeutic diets for Celiac Sprue, hypertension, diabetes and PCOS.

Outside Interests/Hobbies: Academy of Nutrition and Dietetics Association member, Virginia and Blue Ridge Nutrition and Dietetics association member, and AAFCS and VAFCS member. Member of Sports, Cardiovascular, and Wellness Nutrition Practice group and Nutrition and Dietetics Educators and Preceptors Practice group. Food Bank volunteer. Choir, piano, hiking and jogging, entertaining and traveling.