Find your voice
Academic Citizenship includes three opportunities to increase conversation on campus – the Big Question, the Bridgewater Dialogue Club and the Annual Pedagogy Project.
Through the Academic Citizenship program, BC is increasing conversations about a wide variety of issues. Engage in your education. Take advantage of an academic community filled with different perspectives. And prepare to be a better citizen of the global community.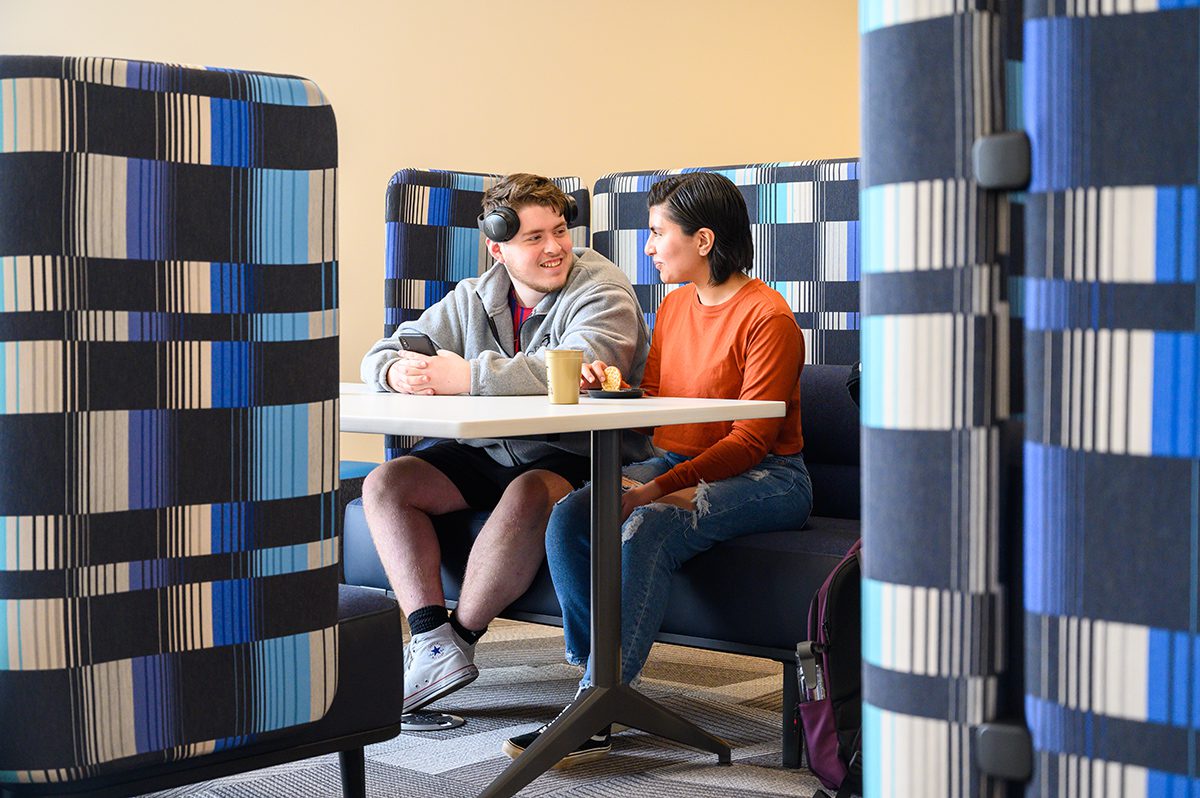 You have a unique and creative voice. Find your voice at BC. Making yourself heard involves:
Finding that voice
Working on skills that make conversations less scary and more productive, even when people disagree
Having more opportunities to practice those skills in conversations about complex issues
Interact with respect. Listen to those with different values and experiences. Show openness and mutual respect in the midst of disagreement.
Examine various perspectives. Be able to articulate multiple viewpoints. Gather evidence. Seek clarification whenever possible.
Practice critical reasoning. Use dialogue to gather and interrogate evidence. Identify unstated assumptions. Weigh competing points of view and decision-making.
Articulate your own unique perspective. Cultivate your voice. Use that voice to express well-supported arguments.
An annual theme for speakers and activities throughout campus. With the Big Question, you can start a lot of new conversations. Start thinking about what you might ask!
The 2021-22 Big Question is: "What connects us?"
Use your voice. Contribute to ongoing conversations. Participate in active listening. Encourage others to participate. Brainstorm solutions to collective problems.  
Look for events and convocations relating to the Big Question throughout the year.
Past Big Questions:
2020-21: "Where do I belong?"
2019-20: "How can I make a difference?"
2018-19: "How can we work together?"
2017-18: "Can you hear me?"
2016-17: "Where do we go from here?"
2015-16: "Is it sustainable?"
2014-15: "How do we decide?"
2013-14: "What should change?"
2012-13: "What is fair?"
The Big Question provides opportunities for discussions that might not otherwise take place, encouraging members of the campus community to engage each other in intellectual and civil discussion. Faculty, staff and students all work toward a deeper, more complex understanding of an issue, creating a more collaborative atmosphere.
Each academic year, the Big Question theme is selected by the Academic Citizenship Steering Committee. If you would like to submit your topic suggestion, please send an email with your name, idea and a brief description of your idea, what you envision it encompassing, and how you think it could be applied to many different situations or groups. Email Madeleine Martin or drop it off at the Academic Citizenship office in the Forrer Learning Commons (Academic Resources Suite, Room 126).
Engage in meaningful discussions across campus about difficult topics. Join the Dialogue Club.
Dialogue Club:
Practices and promotes dialogue as a tool for engaging contentious topics on campus
Is designed to maximize the scope and impact of conversations on campus by offering dialogue design and facilitation skills to the community
Creates space for new conversations
As a dialogue-trained student, you'll engage the community in deeper, more reflective conversations on topics that matter. Encourage an alternative to debate. Become a leader on campus.
You'll be prepared to have effective discussions in the workplace and in everyday life by building these skills.
Learn to reach across divides and differences – cultural, religious, gender, generational, political, and other types of differences in identity, beliefs or values.
Dialogue Club activities include:
Discussions among club members, to practice facilitation and participation.
Planning and implementing events to reach the entire campus and discuss relevant topics
Serving as a resource to the campus by offering to facilitate discussions for other organizations
Reaching beyond the campus to offer members' skills to the local community
Faculty/Staff Fellows: Academic Citizenship is a community-wide project in which faculty, staff and students work side-by-side to address issues affecting the Bridgewater community. Faculty can become involved by facilitating discussions, working with the student Dialogue Club to plan extracurricular events, or by hosting the club in their classrooms to aid in discussions of controversial material.  For more information on getting involved as a faculty or staff fellow, please contact Jamie Frueh or Betsy Hayes.
This project gives faculty the time, resources and incentives to develop approaches to teaching that encourage active and collaborative learning. As they do this, they learn how to encourage perspective taking, public reasoning and self-authorship skills.
Perspective-taking involves attending seriously to multiple, often contradictory points of view, navigating differences, and acknowledging that all perspectives should be respectfully heard and critically evaluated.
Public reasoning is the purposeful airing of ideas and positions so that they can be evaluated and refined. As you engage in civil discourse, you must be able to weigh the competing views of others and provide persuasive evidence and arguments to support your own claims.
Self-authorship is the practice of not only taking seriously the perspectives of others but cultivating your own voice to add to the public dialogue.
Past Pedagogy Projects:
2019-20: Teaching Generation Z
2018-19: Eliciting Effective Peer Response and Revision
2017-18: Peer Mentors
2016-17: Student Engagement and QEP Goals
2015-16: The Flipped Classroom
2014-15: Public Discourse
2013-14: Writing across the Curriculum
2012-13: Collaborative Learning
The Bridgewater Academic Citizenship program has formed a partnership with the Essential Partners, an organization based in Massachusetts whose primary goal is to "foster constructive dialogue wherever conflicts are driven by differences of identities, beliefs, and values." In addition to leading dialogue training sessions at BC, Essential Partners leads events and dialogues focused on mediating discussions in sectors of global society that need help coming together to work on their differences. Read about some of the projects they are involved in on their website.
Questions? Contact Us!
CONTACT:
Madeleine Martin
540-828-5357 | mmartin@bridgewater.edu