Renowned Speakers Take the Stage
The first female Secretary of State. Pulitzer Prize Winners. Powerful activists. Best-selling authors. Renowned musicians. You'll see them all at Bridgewater.
Endowed Lecture Series
2022-2023
Award-winning author James McBride spoke about his latest novel Deacon King Kong, which tells the story of a 1969 shooting in Brooklyn and the strange intersections of the lives of the characters involved in the incident. Told with insight and wit, Deacon King Kong demonstrated that love and faith live in all of us.
One of the most respected documentary filmmakers and storytellers in America, Lynn Novick talked about the three-part PBS documentary The U.S. and the Holocaust, which she co-directed with Ken Burns and Sarah Botstein. The film examines the rise of Hitler and Nazism in Germany in the context of global anti-Semitism and racism, the eugenics movement in the U.S. and race laws in the American South.
The Rev. Dr. William Barber II delivered the keynote address, "We Are Called to Be a Movement," as part of BC's annual celebration of the life and legacy of Martin Luther King Jr. In 2018, Barber helped relaunch the Poor People's Campaign, which was begun by Martin Luther King Jr. and others in 1968.
A cultural critic, celebrated sociologist and award-winning writer, Dr. Tressie McMillan Cottom spoke on "The Crisis of Faith in Higher Education." In her 2018 book Lower Ed: The Troubling Rise of For-Profit Colleges in the New Economy and in subsequent essays, Cottom examines the impact of higher ed on society and the way it intersects with the economy, the labor market and the collective ideal of the American Dream.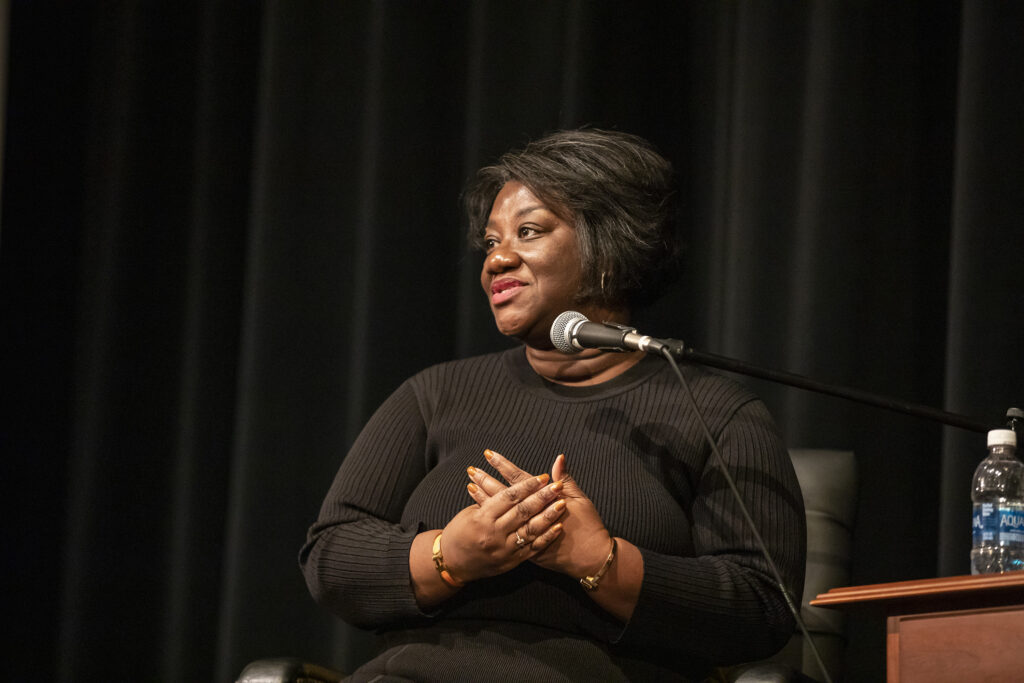 We've had many amazing speakers and artists take the stage at Bridgewater College.
Jeff Corwin, Emmy-winning TV host, conservationist and wildlife biologist. Corwin shares his passion for environmental conservation in a talk that inspires audiences to become more aware of the threats to wildlife and the environment.
Dr. Madeleine Albright, a professor, author, diplomat and businesswoman who served as the first female U.S. Secretary of State (1997-2001).
Photojournalist Lynsey Addario, who covers major conflict zones across the globe including the Middle East, South Asia, Haiti and Africa. She was named one of 20 women on Oprah Winfrey's Power List for her "Power of Bearing Witness" and one of Glamour magazine's 20 Women of the Year in 2011.
Charlotte Clymer, the former press secretary for Rapid Response at the Human Rights Campaign, the nation's largest civil rights organization dedicated to advancing lesbian, gay, bisexual, transgender and queer (LGBTQ) equality. Clymer is a Texan, military veteran and proud transgender woman, based in Washington, D.C.
Symone D. Sanders, a strategist, communications consultant, and CNN political commentator. Sanders was the Senior Advisor for Joe Biden's 2020 presidential campaign, as well as Principal of the 360 Group, LLC, through which she provides strategic communications guidance to organizations, businesses, individuals, campaigns and candidates.
Michael Steele, when elected Lieutenant Governor of Maryland in 2003, made history as the first African American elected to statewide office. He made history again with his subsequent chairmanship of the Republican National Committee (RNC) in 2009.
Steve Schmidt, renowned political strategist on campaigns for President George W. Bush, Senator John McCain, Governor Arnold Schwarzenegger. MSNBC political analyst.
Monica Lewinsky, social activist in the battle against online harassment, advocating for a safer social media environment. As a public speaker, writer and contributor to Vanity Fair, she addresses such topics as survival, resilience, digital reputation and equality.
You won't believe who you get to see. Right here. At BC.
Questions? Contact us!
CONTACT:
Jennifer Babcock
Director of Endowed Lectures
540-828-5665 | jbabcock@bridgewater.edu