Experience Bridgewater for yourself
Welcome to Bridgewater College! When you visit our campus, you'll see exactly what makes Bridgewater such a special place. Join us for a personal or group visit on campus, or take advantage of a variety of virtual sessions you can attend from your own home.
Fully vaccinated visitors are not required to wear a face covering on campus but may do so if they choose. Unvaccinated visitors are required to wear a face covering for the duration of the visit. In the event a face covering is forgotten or damaged during the visit, a disposable mask will be provided.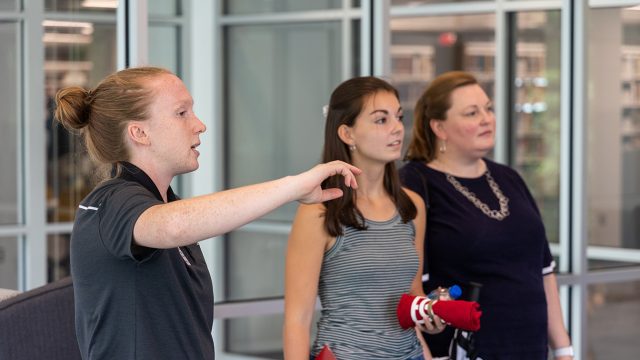 Personal Visit
ON CAMPUS OR VIRTUAL
You can get one-on-one access to your Admissions Counselor by scheduling a personal visit. The on-campus visit includes a campus tour and discussion. A virtual campus visit is a Zoom session and virtual campus tour.
Personal visits are held Monday – Thursday between 9 a.m. and 3 p.m. and on Fridays at 8:30 a.m. and 10:30 a.m. On-campus visits are by confirmed appointment only. Please request your appointment at least two business days before you plan to join us on campus so that we may confirm your visit.
Admission Events
Admissions events are a fantastic way to explore Bridgewater College. There are several opportunities to engage with our campus in a variety of ways. Click on a name below to find an admissions event that's the right fit for you!
Current Events
This 2-hour session is all about discovering what life would be like as a student at Bridgewater College! Hear about the unique academic features of a Bridgewater education, explore engagement opportunities outside of the classroom, and learn about the admissions and financial Aid processes. A campus tour will also be provided.
Meet up with a small group of prospective students as you all come together to learn more about the Bridgewater Experience. These Saturday Small Group Visits are extra special! Not only will you learn about campus life and the admissions/financial aid process… but you'll also get the chance to attend one of our BC athletic games! Come join us for a Bridgewater visit like no other.
Join Transfer Counselor Emily Helms for a biweekly Zoom session from 7-8 p.m. to get general information about Bridgewater and to ask any questions you may have about the application process, how courses will transfer to BC, what life at BC is like, and more.
When 7 p.m. comes on the date you wish to join, click the corresponding link. You can choose from the following dates:
For those who aren't able to join us for an in-person visit: attend one of our Virtual Information Sessions to learn more about a specific topic! Each session, hosted by an Admissions Counselor, will feature a presentation along with time for Q&A.
Throughout the week, you will get the opportunity to hear from a professor about the academic experience at BC, learn about campus life and what you can do outside the classroom, and gain a thorough understanding of the admissions and financial aid process. A campus tour will follow each session.
Future Events
Dates to Be Announced
College classes are much different than high school classes. Check out exactly what we mean by that during this event. You'll be able to meet with your future professors and you'll learn all about how academics work here at BC. Get an in-depth look at what our classes are like during this full day event.
Come back in October 2021 to sign up for this event!
We will be hosting a full day of fun for our Admitted Students. This half-day event will include: learning the ins and outs of being a Future Eagle, meeting with professors from your specific major, and you'll be able to tour campus with a Student Ambassador! Check out what your future could look like at BC. This event is for ADMITTED STUDENTS ONLY.
Come back in February 2022 to sign up for this event!
Become an Admitted Student early to experience our Shadow Day! Live like a student at Bridgewater for a whole day! You'll hang out with one of our Student Ambassadors: going to class with them, eating with them, all while having a blast on campus. This event is for ADMITTED STUDENTS ONLY.
Come back in October 2021 to sign up for this event!
Drop into our virtual office hours to meet with an Admissions Counselor to learn about all of the fun and exciting opportunities at Bridgewater. This is a general session where you can get any of your questions answered. One of our Admissions Counselors will be available to chat with you from 7-8 p.m.
Want to find out your admissions decision the day you visit? Then come out to Instant Decision Day! Submit your official high school transcript 48 hours before the day you arrive on campus. We'll have a 2-hour session for you to attend which will include a campus tour. You'll be able to know your admissions decision at the end of your tour!
Come back in September 2021 to sign up for this event!
Are you interested in being a music major? If so, come experience what a music major does at Bridgewater! This will be an immersive all-day event and we have will have different days to highlight our vocal and band classes. You'll be fully immersed in our Bridgewater experience by going to music classes, eating on campus, and meeting current students.
Come back in January 2022 to sign up for this event!
Experience Bridgewater College to the fullest at Open House! We've planned an informative and fun day filled with sessions geared towards both students and their families. All guests will learn what the Bridgewater Experience is like by attending academic, student life, and admissions/financial aid sessions. There will also be an optional campus tour at the end of the day.
Come back in September 2021 to sign up for this event!
Are you a Sophomore or Junior who's ahead of the game? Do you want to know where you're going before Senior Year? Then come check out our Sophomore/Junior Discovery Sessions! This'll be an exciting 2-hour informative session all about what your future could look like here at BC. A campus tour will also be available for you!
Come back in March 2022 to sign up for this event!
Play one round of Kahoot for some BC gear. The top 3 trivia masters will win a prize! Brush up on your general college knowledge as well as geography, pop culture, and sports. There might also be some surprise Bridgewater College trivia too!
What are Student Ambassadors?
The Student Ambassadors are tour guides for any visitors that come to campus. They include students from all different areas, majors and clubs/organizations! Every one of our Student Ambassadors will give you expertise knowledge about BC because they all play an active role in our community. They cannot wait to meet you!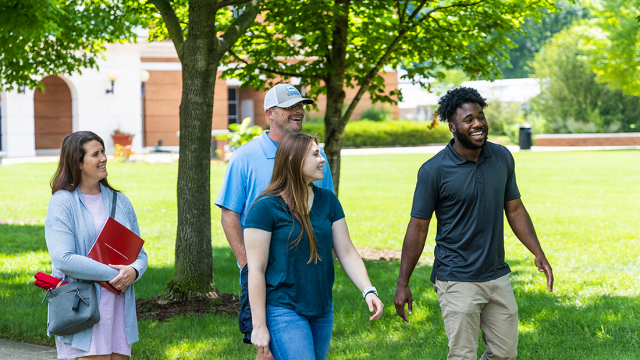 Ask a Student
Have a question for a current student? By emailing AskAStudent@bridgewater.edu or texting (540) 509-0189, you will connect with a current student who can answer it!
Launch Experience
Questions? Reach out