Experience Bridgewater for yourself
Welcome to Bridgewater College! When you visit our campus, you'll see exactly what makes Bridgewater such a special place. You'll take a tour and find out more about our academic programs and numerous opportunities for engagement and growth outside the classroom. Either join us for safe, in-person small and personal visits or take advantage of a variety of virtual sessions and tours from your own home.
Personal Visit
ON CAMPUS OR VIRTUAL
You can get one-on-one access to your Admissions Counselor by scheduling a personal visit. The on-campus visit includes a campus tour and discussion. A virtual campus visit is a Zoom session and virtual campus tour.
All visits are held Monday – Friday every hour between 9 a.m. and 3 p.m. and on Saturdays from 8 a.m. and 12 p.m. On-campus visits are by confirmed appointment only. Please request your appointment at least two business days before you plan to join us on campus so that we may confirm your visit.
Campus visitors are required to wear a face covering during the duration of the visit. Visitors should provide their own face covering. In the event a face covering is forgotten or damaged during the visit, a disposable mask will be provided.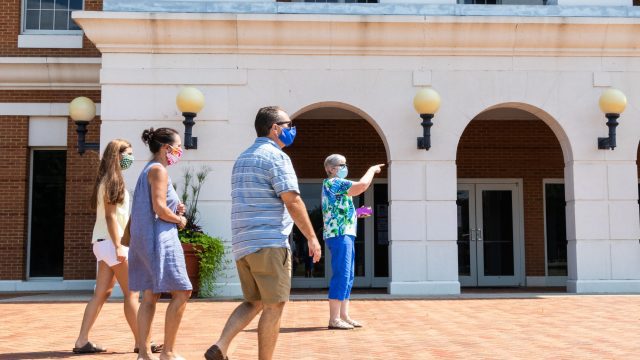 Ways to Visit
IN-PERSON OR VIRTUAL
Admitted Students Day
Are you an admitted student trying to figure out if BC is the right fit for you? This event was designed to help with that important decision! Join us for one of our Admitted Student Days to hear from a professor in the department you are interested in, a panel of current students, an admissions representative, and a tour of campus. By the end of the day, you will know what BC has to offer you! Admitted students may bring only 1 guest.
---
Prospective Eagle Day
Find out what Bridgewater College has to offer by attending one of our on campus Prospective Eagle Days! This is a great way to see if BC could be the right fit for you as you will hear from a professor, a representative from the student life department, and an admissions counselor. A campus tour will follow the informational session.
---
Junior Preview Day
You don't have to wait until your senior year to start learning about how BC can be your future home away from home! Attend a Junior Preview Day to learn about Bridgewater's academic programs, talk about what it means to be in community living, explore the different engagement opportunities outside of the classroom and discuss the enrollment process (admissions and financial aid).
---
Open House
Join us in person for a socially distanced Open House to learn about BC! During the day, you will hear from a professor, learn about engagement opportunities outside the classroom, hear about the admissions and financial aid process, and go on a campus tour! Prospective students are allowed to bring 1 guest.
---
Virtual Academic Open House
Learn about academics at BC virtually! During this event, you will get the chance to hear directly from a professor in the major/department you are interested in. If you are still deciding on a major, we've got you covered. This is a great session for those who are interested in learning about what academics at BC have to offer!
---
Counselor on Call
Every week one of our Admissions Counselors will host a virtual office hour so that you can drop in and get any forgotten or new questions answered on the spot!
No registration needed. Please click one of the Zoom links below at the time of the session!
---
Kahoot Night
Play one round of Kahoot for some BC gear. The top 3 finishers will win a prize! Brush up on your general college knowledge as well as geography, pop culture, and sports.
---
Ambassador Led Virtual Campus Tour
This is one campus tour that you won't need your walking shoes for! Join us for an hour-long interactive virtual campus tour led by two of our Student Ambassadors.
---
Transfer Twilight Hour
Join Transfer Counselor Emily Helms for a biweekly Zoom session from 7-8 p.m. to get general information about Bridgewater and to ask any questions you may have about the application process, how courses will transfer to BC, what life at BC is like, and more.
When 7 p.m. comes on the date you wish to join, click the corresponding link. You can choose from the following dates:
---
Ask a Student
Have a question for a current student? By emailing AskAStudent@bridgewater.edu or texting (540) 509-0189, you will connect with a current student who can answer it!
Questions? Reach out
Admissions Office
Phone: 800-759-8328
admissions@bridgewater.edu