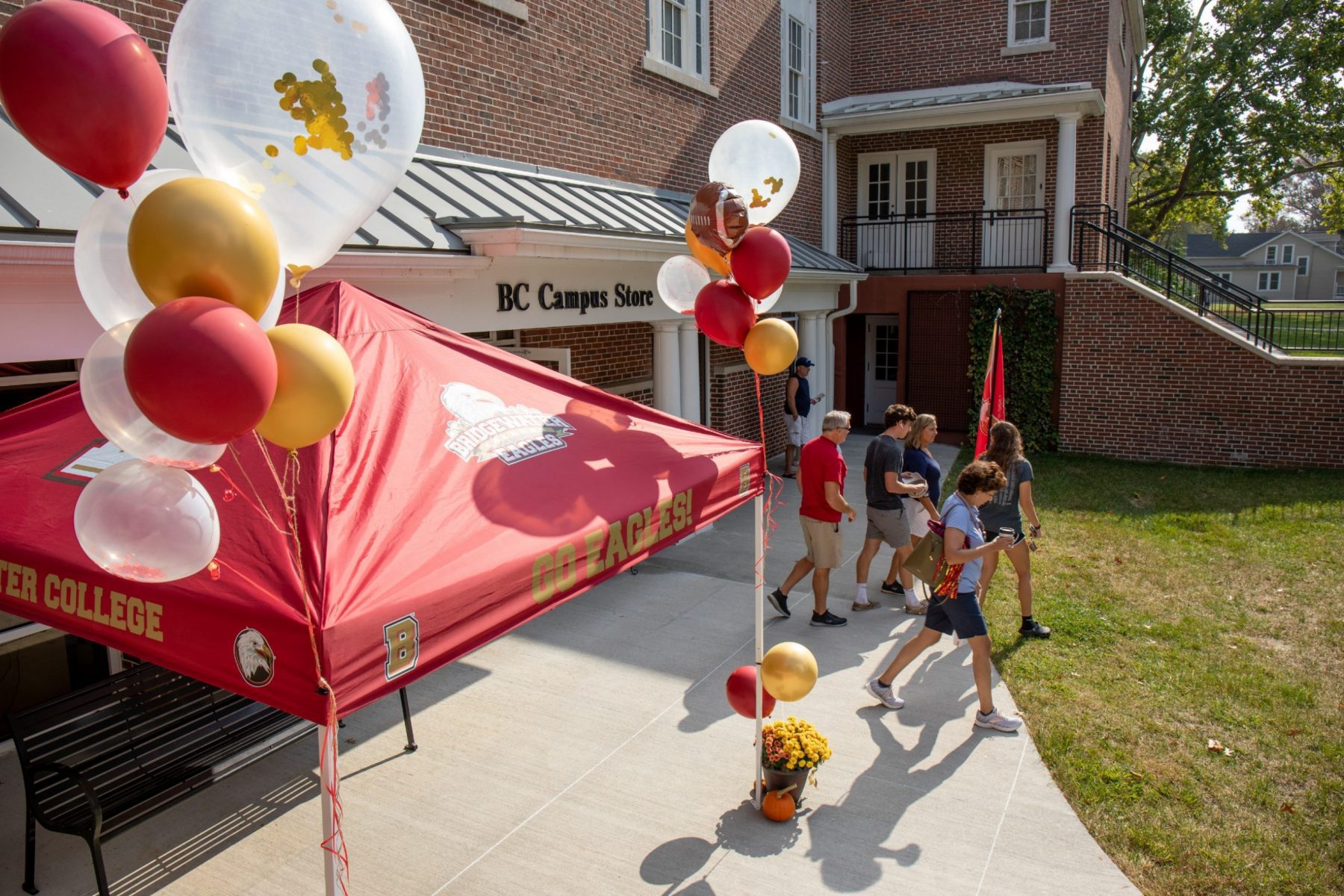 September 18, 2021
–
September 19, 2021
BC parents and families, join us for Family Weekend Sept. 18-19 at Bridgewater College! The weekend will feature football vs. Randolph-Macon, a Dueling Pianos concert, and much more.
In keeping with guidance from the CDC, Bridgewater College requires that all individuals, regardless of vaccination status, properly wear face masks when indoors in public areas of campus.
SATURDAY, September 18
10 a.m. – 2 p.m. Brunch
KCC Main Dining Hall
Enjoy brunch in our main dining hall. Cost is $10 at the door for guests. No charge for BC students with meal plans.
9 a.m.– 1:30 p.m. Family Weekend Information Tent
Stop by the tent in front of the Forrer Learning Commons to get the schedule for the weekend, campus map, and fun BC spirit items. You can sign up for the cornhole tournament between 9 and 10 a.m.
10 a.m.– 3:30 p.m. Campus Store Open
Cole Hall
Show off your BC spirit!
10 a.m. Family Weekend Cornhole Tournament
Campus Mall
Bring a teammate or come join another team for the chance to win a coveted Intramural t-shirt. Sign up at the Family Weekend Information Tent
between 9 and 10 a.m. Walk-ins accepted until 10:15 a.m.
11 a.m. Family Day Reception
Forrer Learning Commons
Meet other families and connect with campus representatives who work to support your student.
11 a.m. Women's Volleyball vs. Hollins
Nininger Gym, free admission
Noon Family Day Tailgate
Mapp Field
Your game day football ticket also gives you admission to the tailgate area. Stop by our tailgate to meet other families and learn about how to be a Family Ambassador. Free hotdog and nacho bar.
1-2 p.m. KIDZONE-ENDZONE-FUNZONE
Mapp Field
Free fun for children 13 and under. Fun BC crafts, BC coloring books, and snack packs will be available. Children must be supervised by their BC student or another adult family member.
1 p.m. Women's Soccer vs. Salisbury (VA)
Soccer Field, free admission
1 p.m. Women's Tennis vs. Marymount (VA)
Tennis Court, free admission
2 p.m. Football vs Randolph-Macon
Jopson Field
Come cheer on our BC Eagles! Tickets may be purchased at the football
ticket gate. Adults are $10, $8 for Seniors (62+), and $6 for student admission (children 6-18 and students with IDs from other colleges). Children under 6 and BC students (with their BC ID) have free admission.
3 p.m. Men's Soccer vs. York (PA)
Soccer Field, free admission
3 p.m. Women's Volleyball vs. Penn State – Altoona
Nininger Gym, free admission
7:30 p.m. Music Faculty Concert
Concert Hall, Carter Center for Worship and Music
A free evening of music presented by the Bridgewater College music faculty.
9 p.m. CEAT Presents: Dueling Pianos
Main Dining Hall
Join us as we transform the "K" into a lively piano bar. Free for students and guests. Enjoy steak bites and top your own cheesecake while two professional piano players take requests to battle out who is the better musician. Come early to get your seat.
SUNDAY, September 19
10 a.m. Dining Hall Open
Pay at the door with cash or checks payable to Parkhurst Dining Services. No charge for BC students with meal plans.
11 a.m. Family Weekend Worship
Stone Chapel, Carter Center for Worship and Music
An ecumenical worship service for all students and their families.
View or download the schedule as a pdf
If you have any questions, please email Student Life at studentlife@bridgewater.edu.