Caring for your body and mind
Bridgewater's Student Health Center, Counseling Center, and Wellness Programming take a holistic approach to student wellbeing. We strive to empower students to become more responsible and proactive in their own physical, emotional, and social health.
Our medical practitioners provide initial consultation, evaluation, treatment, and follow up for illnesses and injuries. All services and supplies provided at Health Services are free of charge to any student, whether they are full time or part time, resident or non-resident. There are times when the provider may determine that a student's specific injury or illness should be treated by a specialist, may require additional procedures (x-ray, lab work, etc.) or treatment at a more advanced facility. When that occurs, it is recommended that the student collaborate with their health insurance provider to determine what additional costs may be incurred by the referral as any off-campus service and all prescription medications are the student's financial responsibility.
The following diagnostic tests are available at no charge to the student, upon the order of our provider:
RAPID STREP TEST | MONO TEST | ROUTINE URINALYSIS | PREGNANCY TEST | TB TESTS
Before you can begin classes, you'll need to provide documentation to show that you've received vaccinations, which is a requirement of Virginia state law. To do so, please visit MyBC for instructions about how to download, complete, and electronically submit the appropriate forms as part of the incoming student "My To Do List"
At institutions of higher education, the confidentiality of medical records is governed by the Family Educational Rights and Privacy Act (FERPA). Information contained in the medical and mental health record of each student is confidential and may not be released to anyone outside of the College, including parents, without written permission from the student, except under specific emergency circumstances as outlined by the Code of Virginia. If a student has any chronic condition, takes special medication, or needs specific health treatment, it is recommended that they make these needs known to the appropriate department. If the student lives with a condition (i.e. insulin dependent diabetes or a history of seizures, etc.) that may require emergency assistance at some point, it may also be helpful to notify Residence Life Professional Staff.
We encourage all students to maintain comprehensive, primary health insurance coverage while enrolled at Bridgewater. Students are responsible for all medical expenses, except for those provided by the Student Health Center. The College does not provide student health insurance.
F-1 international students: Before coming to Bridgewater, you are required to prove you have sufficient health insurance coverage from a U.S.-based provider. Contact Anne Marsh at atmarsh@bridgewater.edu to review policy details before you purchase any plan.
If a student experiences a medical or mental health emergency after our offices are closed, there are a number of resources available:
Call 911. The Bridgewater Rescue Squad is located less than a mile from campus and provides prompt, professional service in conjunction with the Sentara RMH Medical Center in Harrisonburg, approximately nine miles from campus.
Contact a Residence Life Professional Staff Member (Area Coordinator or Residential Advisor) who is able to consult with medical professionals after hours and assist in identifying the most appropriate response and/or resource
Augusta Health Urgent Care
Website
1140 Keezletown Road
Weyers Cave, VA
540-453-0040
Hours: Monday through Friday 9 a.m. – 7 p.m., Saturday and Sunday 9 a.m. – 5 p.m.
Walk-in, no appointment needed
EmergiCare
​Website
343 Neff Ave., Suite C
Harrisonburg, VA
Hours: Monday through Friday 9 a.m. – 7 p.m., Saturday 9 a.m. – 3 p.m., Sunday 1 p.m. – 6 p.m.
540-432-9996
Walk-in, no appointment needed
Cooks Creek Clinic
2323 Grace Chapel Road
Harrisonburg, VA
540-433-3889
Hours: Monday through Friday 8 a.m. – 4 p.m.
Call for same day appointment
Carilion Clinic Family Medicine
Website
100 Health Center Drive
Bridgewater, VA
540-828-2634
Change is stressful and exciting. The Bridgewater College Counseling Center stands ready to assist students in resolving their mental health concerns. Each year, a significant number of students utilize the Counseling Center as a means to address the emotional stressors that impact their day-to-day experience on campus. The Counseling Center employs licensed mental health practitioners who provide individual and group psychotherapy to students free of charge. Treatment begins with a group therapy based approach, and the staff work closely with the Student Health Center to ensure that each student receives the best care possible.
Bridgewater College Student Wellness takes a proactive approach to health and wellness through various promotion, awareness, and prevention efforts. Professional staff and student groups provide training and programming on a variety of topics including mental health, substance abuse, and sexual violence prevention.Throughout the academic year, there are wellness events where students can engage with and learn about the facets of wellness. Some of the major wellness events include Walk for Hope, an annual event focused on suicide prevention, and Red Flag week, which raises awareness about unhealthy relationships. Other events include Welcome Week, alcohol safety and healthy relationships presentations, bi-weekly therapy dog visits, bystander intervention training, the Clothesline Project, Finals Week wellness care packages, Take Back the Night, and more!
We have several student organizations dedicated to wellness, including Active Minds and BC United. Active Minds focuses on raising awareness about, advocating for, and decreasing stigma around mental health with events throughout the year. BC United provides programs and training to student organizations and athletic teams about bystander intervention, healthy relationships, and substance abuse.
Physical fitness is an important part of your personal development. You'll find something for every fitness level at Bridgewater.
The Funkhouser Center for Health and Wellness is just steps away from your residence hall. Try out our treadmills, elliptical cross trainers and stationary bicycles. Take a yoga or cycling class. Build strength using free weights or selectorized weight machines. You can also make use of the fitness room in the Wright/Heritage Link. Or visit the indoor pool in Nininger Hall.
What is sexual health?
Sexual health is "a state of physical, emotional, mental and social well-being in relation to sexuality; it is not merely the absence of disease, dysfunction or infirmity. Sexual health requires a positive and respectful approach to sexuality and sexual relationships, as well as the possibility of having pleasurable and safe sexual experiences, free of coercion, discrimination and violence. For sexual health to be attained and maintained, the sexual rights of all persons must be respected, protected and fulfilled" (WHO, 2006a).
Why is sexual health important?
Sexual health has a direct effect on and is directly affected by other areas of health, including but not limited to physical, emotional, social, and mental health. It is important to stay well-informed on ways to practice safe sexual health so that you are respectful to yourself and other individuals.
Good ways to practice good sexual health (include drop down info below each of these bullet points):
Consent

What is Consent?

Consent is informed, freely and actively given, and mutually understandable words or actions that indicate a willingness to participate in mutually agreed-upon sexual activity. We can remember what consent is by using the acronym F.R.I.E.S. (Freely Given, Reversible, Informed, Enthusiastic, and Specific)

Protection

It is extremely important that if you choose to be sexually active, that you and your partner(s) use measure to protect yourselves against STDs and unplanned pregnancies. These can include (but are not limited to):

Condoms

85% effective as the only form of birth control. Condoms are a physical barrier used during intercourse that prevents pregnancy by stopping sperm from getting into the vagina. Latex and non-latex condoms can also protect against STDs when used properly during oral, anal, or vaginal sex. While most condoms are made to cover the penis during intercourse there are also internal condoms that are inserted into the vagina prior to intercourse. Internal condoms have a lower effectiveness as a form of birth control at 79% effective.

Birth Control Pills

91% effective as a form of birth control. Birth control pills are used by individuals assigned female at birth and contain hormones that stops ovulation and thicken the mucus on the cervix to prevent fertilization of an egg by a sperm. Birth control pills come in a pack and are taken once a day at the exact same time. It does not protect against STDs.

Patch

91% effective as a form of birth control. Similar to the birth control pill the patch is a hormonal birth control. The patch is used by individuals assigned female at birth. The patch is placed on the skin in specific areas, typically the stomach or back, and releases hormones to stop ovulation and thicken the mucus on the cervix to prevent fertilization of an egg by a sperm. The patch must be replaced weekly. It does not protect against STDs.

Shot

94% effective as a form of birth control. The birth control shot is given by a healthcare provider once every three months. The shot is used by individuals assigned female at birth. The shot is a form of hormonal birth control that releases hormones to stop ovulation and thicken the mucus on the cervix to prevent fertilization of an egg by a sperm. It does not protect against STDs.

Implant

99% effective as a form of birth control. The birth control implant or Nexplanon is a small, thin rod that is inserted into the upper arm. The birth control implant is used by individuals assigned female at birth. The implant is a form of hormonal birth control that releases hormones to stop ovulation and thicken the mucus on the cervix to prevent fertilization of an egg by a sperm. The implant can last up to five years. It does not protect against STDs.

Diaphragm

88% effective as a form of birth control. A diaphragm is a form of birth control that's a shallow cup shaped like a little saucer that's made of soft silicone. It is bent in half and inserted it inside the vagina to cover the cervix. A diaphragm is a non-hormonal birth control. For a diaphragm to be most effective it must be used with a spermicide (a cream or gel that kills sperm). The diaphragm must be inserted for every session of intercourse. It does not protect against STDs.

Intrauterine Device (IUD)

99% effective as a form of birth control. The IUD is a small flexible plastic device shaped like a "T". The IUD is inserted into the uterus to prevent pregnancy. There are two types of IUDs copper and hormonal. Copper IUDs have no hormones but contain copper and can prevent pregnancy for up to 12 years. Hormonal IUDs releases hormones to stop ovulation and thicken the mucus on the cervix to prevent fertilization of an egg by a sperm. Hormonal IUDs can last for 3-7 years. IUDs do not protect against STDs.

Things to consider:

These are only a few of many forms of birth control. It is important to talk to your doctor if you plan on using forms of birth control. They will help you make the most informed choice about which form of birth control is best for you.
Forms of protection will depend on you and your partner(s) level of comfort and health factors, such as allergies.

Communication

It is important to talk about sex with your doctor and have honest conversations and questions.
Being clear and direct with your sexual partner(s) is very important. You should talk about your boundaries and expectations.
If you were diagnosed with an STD, you should disclose this to your sexual partner(s) since they may be affected too.

Education

It is important to know about sex, including risk factors, consent, communication, how to practice sex safely, sexually transmitted infections (STIs), and abuse.
To learn more about sexual health and wellness visit: cdc.gov/sexualhealth/

Sexual Misconduct

Sexual assault is any form of unwanted sexual contact obtained without consent or through the use or threat of force, intimidation or coercion. This criminal act can be prosecuted under Virginia law as well as sanctioned under the College's policies. Sexual assault can happen to anyone regardless of age, race, gender or sexual orientation. Rape is never the survivor's fault. Bridgewater College encourages survivors to come forward and report assaults so survivors can be offered the support services and counseling they need.
If you, or someone you know, has experienced sexual misconduct you can contact the Title IX Coordinator at titleixcoordinator@bridgewater.edu to get support. For more information visit: bridgewater.edu/title-ix-resources/
Questions? Contact us!
Health Services
Monday-Friday | 8 am-4:30 pm
Phone: 540-828-5384 | Fax: 540-828-5778
healthservices@bridgewater.edu
Wellness Programming
Phone: 540-828-8072
spope2@bridgewater.edu
Counseling Center
Monday-Friday | 8 am-4:30 pm
Phone: 540-828-5402 | Fax: 540-515-3748
counseling@bridgewater.edu
Information regarding emergency situations should not be communicated via email. Please contact Campus Police and Safety at 540-578-0652.
Dr. Neal Rittenhouse
Associate Dean of Students
for Health and Wellness
As the Associate Dean of Students for Health and Wellness, Neal provides support and oversight for Bridgewater's Student Health Clinic, Counseling Center, and Student Wellness. He holds bachelor's, master's, educational specialist and doctoral degrees from James Madison University and is licensed in Virginia as a Clinical Psychologist. Outside of work, Neal likes to spend time with his family and explore the outdoors.
Becky Snead
Senior Clinician
Becky started at BC in 2018 as the Senior Clinician in Student Life. From the Shenandoah Valley, she has a Bachelor's degree in Music Performance, a Master's degree and Educational Specialist degree in Counseling, all from JMU. She holds a license in Virginia as a Licensed Professional Counselor and is also a Certified Substance Abuse Counselor. When not working she enjoys time spent playing music and time outdoors with her dog.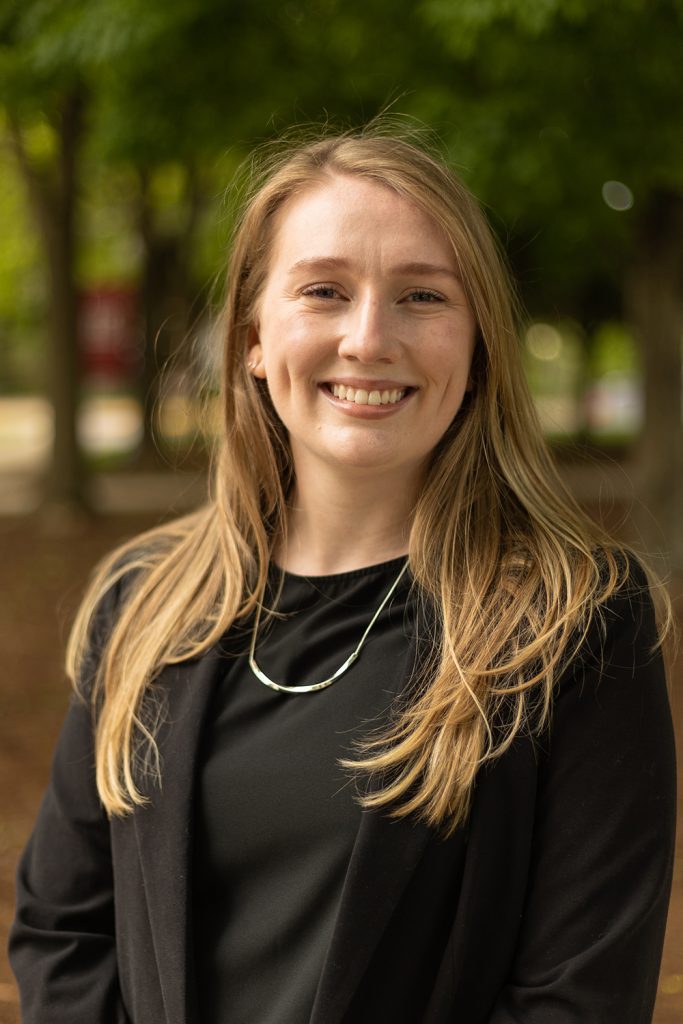 Shannon Pope
Director of Student Wellness/Deputy Title IX Coordinator
Shannon received her Bachelor's degree in Health and Exercise Science from Bridgewater College in 2017. She then attended the University of Virginia for her Master of Public Health degree. Shannon began as the Director of Student Wellness and Deputy Title IX Coordinator in January 2019. At Bridgewater College, she is responsible for health promotion as well as prevention and response in different areas of wellness. When she is not at work she enjoys hiking, running, skiing, and playing with her dog.