January 16
,
11:00 am
–
1:00 pm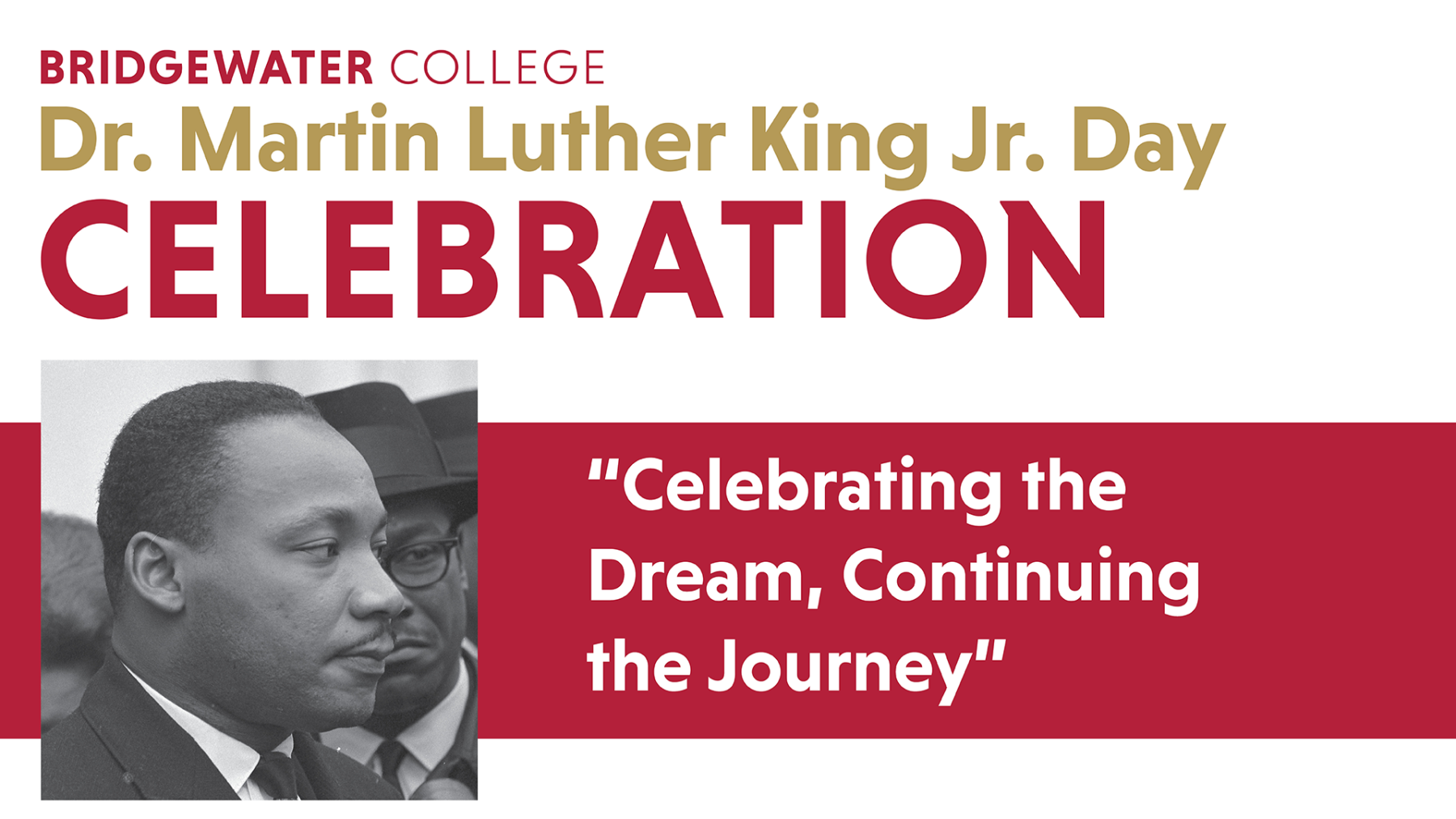 Members of the community are invited to celebrate the life and legacy of Martin Luther King Jr. with Bridgewater College during its annual Martin Luther King Day celebration, "Celebrating the Dream, Continuing the Journey."
All events are free and open to the public.
AT A GLANCE: Dr. Martin Luther King Jr. Celebration
Community March
in collaboration with the town of Bridgewater
Monday, Jan. 16
10:45 a.m. | Gather at Oakdale Park
134 Mount Crawford Avenue, Bridgewater
11 a.m. | Remarks by Town and College Representatives
March from Oakdale Park to Bridgewater College at the conclusion of remarks. A shuttle will be available for those who would like to participate in the march but are unable to walk the entire route because of limited mobility. Those wishing to use the shuttle services should meet at the Kline Campus Center lot by 10:30 a.m.
Following the March | Reception
Kline Campus Center Lobby
Additional Events & Activities
Film: BlacKkKlansman (2018)
Thursday, Jan. 12
7 p.m. | Boitnott Room
Directed by Spike Lee and based on a true story.
Winner of an Oscar for Best Adapted Screenplay, BlacKkKlansman is an excellent example of historical fiction in a comedy. It provides a comedic but accurate description of just a few of the evils of white supremacy and the KKK. The film shows Black and white people working together to combat racism and white supremacy. Rated R for language that includes racial epithets, violence, and some sexual references.
Endowed Lecture: Rev. Dr. William Barber II
Wednesday, Jan. 18
7:30 p.m. | Cole Hall or bridgewater.edu/barber
Barber, a pastor, author and co-chair of the Poor People's Campaign, will deliver the keynote address, "We Are Called to Be a Movement."
Teach-In Sessions Led by BC Faculty
7 p.m. | Forrer Learning Commons 217
(available in person and virtually)

Thursday, Jan. 26: Dr. Sam Hamilton, "All Labor Has Dignity." In addition to his commitment to ending racial segregation, Dr. Martin Luther King Jr. was similarly committed to the cause of economic justice. Just as the moral lessons from his civil rights advocacy can and should inform our present-day struggles with racial justice, so too should King's lifelong support for workers' rights inform our present-day struggles with economic justice. (Zoom option)

Thursday, Feb. 2: Dr. Jamie Frueh, "Dr. Martin Luther King Jr. and Nelson Mandela: Philosophies and Practices." Frueh will lead a discussion comparing two of the most respected leaders of the 20th century. (Zoom option)
CANCELLED
Thursday, Feb. 9: Dr. Vanessa Rouillon, "Dr. Martin Luther King Jr.: On Civil Disobedience, America's Christian Heritage and the Art of Rhetoric."
We are sorry to inform you that due to unavoidable circumstances we have to cancel the MLK Day Teach-In scheduled for Thursday, Feb. 9. The MLK Day Celebration events have been a wonderful success this year, and we are excited to continue to see our celebrations get bigger and flourish in the coming years. Please watch a video about our MLK Day community march here.