As an upperclass student, you will be able to select from a variety of living arrangements, including traditional halls, suites, hotel-style rooms and apartments. The housing selection process takes place each spring for the following academic year.
Each room is furnished with
Extra-long, twin-sized beds (mattress size 36″x80″). Beds can be bunked in some halls.
Desks and chairs
Closet or wardrobe
Chest of drawers
Dresser with mirror
Venetian blinds
Overhead light
Wireless internet access
Smoke detector
Storage space (limited)
Recycle bin
Some students wish to loft their beds to give more floor space in the room. Most lofts purchased from reputable furniture companies will meet the College's standards. However, if you are in doubt or are thinking of constructing your own, the following regulations must be followed to ensure that lofts are safe and in compliance with safety and fire codes:
Your loft should be constructed from non-pressure-treated wood. (Pressure-treated wood is designed for outdoor use only and can create serious health hazards in an enclosed environment.)
Lofts must be free standing and self-supported, which means they may not be attached to the wall, floor or ceiling or supported by any College furniture.
The sleeping surface (top of the mattress) can be no higher than 6 feet.
Lofts should be no more than 40 inches wide and 84 inches long. (Please note that the College-provided mattress is 36"x80".)
Lofts may not obstruct the functioning of windows or interfere with maintenance or access to any part of the room for routine maintenance.
Lofts may not be used in conjunction with the College-provided bed frame. Students are responsible for storage of the College bed frame.
Lofts should have means of safe access (i.e. ladder).
Electrical wiring, fixtures or appliances may not be attached or incorporated into the sleeping surface.
Occupants of rooms where a loft is located acknowledge that the College is not responsible for any accident, injury or damage to the occupants of the room, guest or personal property as a result of construction, design, installation or presence of the loft. It is strongly suggested that before building/designing your own loft, you try out the College-provided furniture first and then decide if you want a loft. If you decide to build your loft ahead of time, please be prepared to make adjustments to the loft upon your arrival to campus.
Each residence hall or apartment has
Laundry rooms with coin-free washers and dryers
Vending machines (except for Stone Village)
Recreation lounges (except for Stone Village)
Study lounges (except for Stone Village)
Heating and air conditioning
Kitchens
Bathrooms
Single, double, triple and/or quad rooms (Single rooms are reserved for upperclass students and those with special housing needs.)
All residential buildings are air conditioned. In Strickler Apartments and the Cottages, window air conditioning units are provided only in common areas. Students with a diagnosed medical condition requiring a personal air conditioner must complete the Housing Accommodation Request Form. These can be retrieved by emailing Denise Miller directly (dmiller2@bridgewater.edu). These forms include information from the student's doctor and are required before a student's arrival on campus.
Living Options on Campus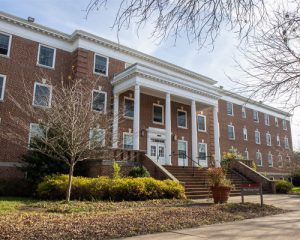 Built in 1949; renovated in 1988
Average room size: 16'x13′
Co-ed, houses 154 students
Suite-style and community-style bathrooms
2 study lounges
1 TV lounge
1 kitchen
Air-conditioned
Some single rooms available
The Cottages consists of 10 houses, holding a total of 84 students. The Cottages are reserved for upperclass students.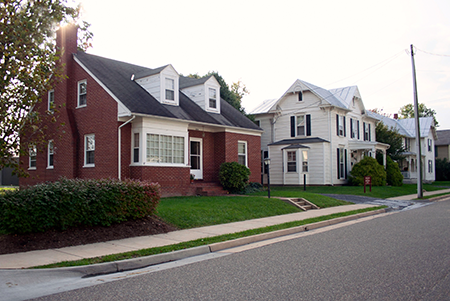 The Cottages are located on College Street, adjacent to the campus, and offer study space, TV lounges, living rooms and kitchens. They are equipped with the same furnishings and amenities as the residence halls. Air conditioning is provided via window units in all common spaces in the house. Each Cottage can select if they will be single-gendered or gender inclusive. Students must voluntarily select into a gender inclusive space; they will not be assigned there without consent.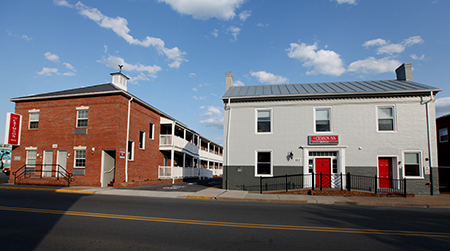 Opened in 2014
Co-ed
Houses 44 students
Hotel-style (private kitchenette and bathroom in each room)
Air-conditioned
Some single rooms available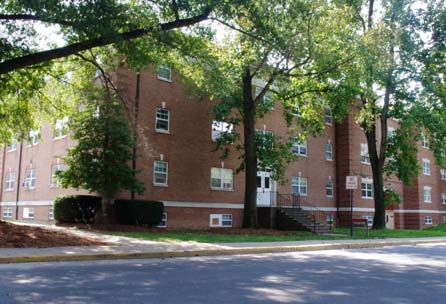 Built in 1964; Renovated in 2016
Average room size: 17'x10′
Co-ed, houses 191 students (first-year and upperclass)
1 study lounge on each floor
1 TV lounge
1 kitchen
Air-conditioned
Handicapped-accessible (all floors)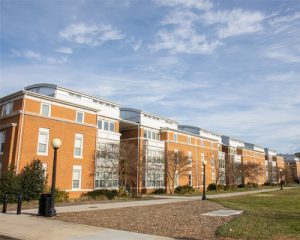 Built in 2004
Co-ed, houses 188 students
1 common room per tower
1 kitchen per apartment
Air-conditioned
For upperclass students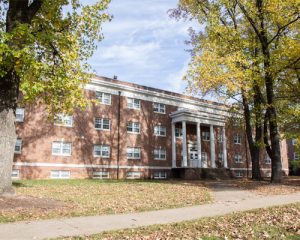 Built in 1959; Renovated in 2010
Average room size: 17'x10′
Co-ed, houses 207 students
Community-style bathrooms
1 study lounge on each floor
1 kitchen on each floor
Air-conditioned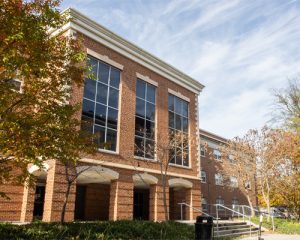 Built in 2010
Co-ed, houses 13 male students on the second floor
Community-style bathrooms
Crimson Lounge
1 kitchen per area
Lounge areas
Game room
Workout room
Seminar rooms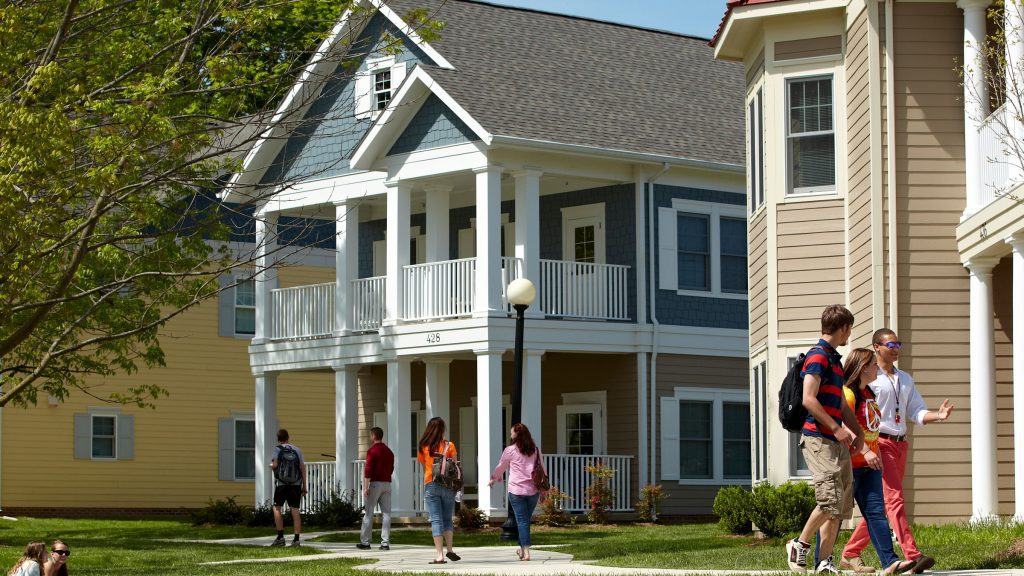 Built in 2011
Co-ed, houses 119 students
3 person (1 double room, 1 single room) and 6 person (2 triple rooms) apartments available
Five houses built in 2011 and the remodeled Strickler Apartments
For upperclass students
Leadership in Energy and Environmental Design (LEED) certified building project
Off Campus Living for Commuter Students
Bridgewater is a residential college, so most of our students live on campus. That's because we believe that students who live, study, work and play together on campus make connections that extend learning beyond the classroom. That's an important part of a liberal arts education.
We think it will be rewarding and fun for you to experience living in a residence hall or apartment on campus. But we understand that sometimes there are circumstances that make it more desirable or necessary to live off campus. You may live off campus if you have a letter of support from your parent or legal guardian and meet one of these conditions:
You live in Augusta, Highland, Page, Rockingham or Shenandoah County with your parents or legal guardians. The registrar's office will verify this address and bill you for on-campus housing costs if you are found to be living somewhere else.
You are at least 23 years old. The registrar's office will verify your age.
You are a current or former member of the armed forces. Please provide a copy of your service record or discharge papers with the application.
You are married or you are a custodial parent. Please provide a copy of your marriage license or completed tax forms.
You are enrolled as a part-time student (taking fewer than 12 credit hours per semester).
You are a fifth-year senior who has lived on campus for eight semesters at Bridgewater College (or the equivalent with transfer credits).
If you have a physical or mental health disability, you may request a medical exception for severe conditions that may impact your living on campus. You may qualify for special on-campus accommodations or be given an exemption to live off campus. Please contact the Director of Academic Support and Disability Services for more information or to access the forms.
You may access the request to live off campus form from MyBC under Off Campus Housing Application.
You are strongly discouraged from signing a lease for an off-campus rental property until you have received written approval from the Director of Residential and Community Life or the housing accommodation review board. If you have not been approved to live off campus and sign a lease prematurely, you will be responsible for paying on-campus room and board fees, as well as your off-campus rent.
Questions? Contact us!
Department of Student Life
540-828-5380
reslife@bridgewater.edu