Impact your community's health & wellness
The major in health and exercise science can prepare you for a variety of careers. Whether you want to focus on health promotion, strength and conditioning, physical therapy, kinesiology or research, your degree in health and exercise science can give you the options you need to develop the career of your choosing or pursue graduate study.
What to Expect
Experiences that will help shape the health and well-being of children, adolescents and adults
48 credit hour major that provides you flexibility based on your career goals
Courses
You'll take courses that teach you how the human body functions and sometimes breaks-down. Classes like nutrition, anatomy, physiology, kinesiology and health/sports psychology form the core of the major that prepares graduates to impact the health and wellness of individuals and communities.
Gain hands-on experiences through labs and practicums
Prepare for an immediate career or entrance to graduate school
Learn from professionals who have had careers in the field they teach
Required Courses Meet the Faculty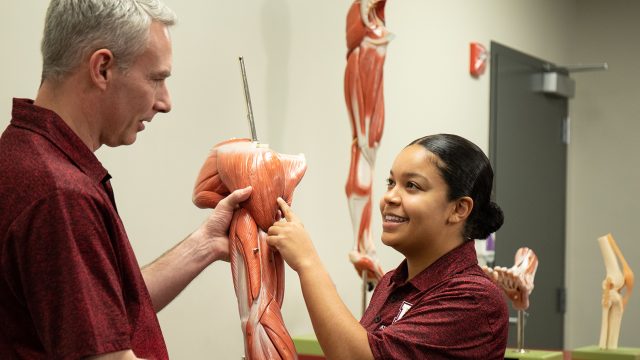 Master of Science in Athletic Training
Develop your skills in athletic training, and see what rigorous preparation can do for your career. Through our MSAT program, you'll delve deeply into the profession, gaining real-world experience on campus and at a variety of clinical sites.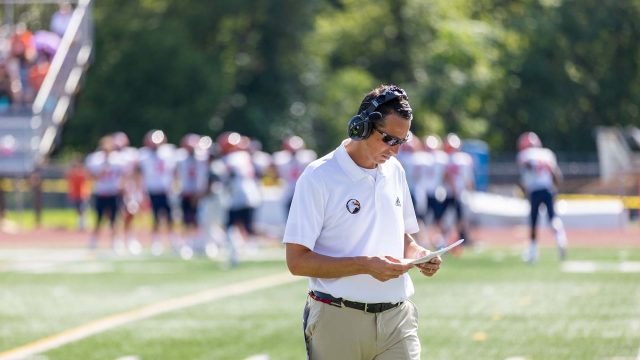 Coaching Minor
Enhance the value of your degree with our coaching minor which is accredited by the National Committee for the Accreditation of Coaching Education (NCACE). Qualified graduates with a coaching minor are guaranteed one of three reserved spots in Randolph College's Master of Arts in Coaching and Sports Leadership (MACSL).
Careers
Pursue careers in health promotion, kinesiology, research, strength and conditioning, and more.
Adapted Physical Education Supervisor
Athletic Director
Coach
Medical Interpreter
Physician (MD or DO)
Physician Assistant
Principal
Recreation Specialist
Nutrition Specialist
Occupational Therapist
Personal Trainer
Physical Therapist
Recreation Therapist
Sports League Manager
Strength and Conditioning Specialist
Teacher
Health and Human Services Certifications
Completing a major within the department of health and human sciences can lead to preparation for a number of certifications. Below is a list of certifications that you may be qualified to test for upon graduation with a degree in the areas of health and human sciences.
410 W Michigan Street
Indianapolis, Indiana 46202-3233
Phone: (317) 637-9200
Fax: (317) 634-7817
www.acsm.org
There are two tracks to certification within the American College of Sports Medicine. The first track is designed for persons who expect working with apparently healthy individuals who exercise for health maintenance. There are 3 certifications within the Health & Fitness Track. The second track is primarily for individuals aspiring to work with participants who have a history of cardiac, pulmonary or other chronic disease. This Clinical Track has two potential certifications.
Health & Fitness Track
ACSM Group Exercise Leader
ACSM Health/Fitness Instructor
ACSM Health/Fitness Director
Clinical Track
ACSM Exercise Specialist
ACSM Program Director
5820 Oberlin Drive, Suite 102
San Diego, California 92121-3787
Phone: (800) 825-3636
Fax: (858) 535-1778
www.acefitness.org
The American Council on Exercise started certification processes more than 15 years ago to ensure some standardization of fitness professionals knowledge. After a review seminar, an athletic training graduate will meet the qualifications for sitting for the following exams from ACE:
ACE Certified Group Fitness Instructor
ACE Clinical Exercise Specialist Certification
ACE Lifestyle & Weight Management Consultant
ACE Personal Training Certification
4223 South 143rd Circle
Omaha, Nebraska 68137
Phone: (402) 559-0091
Fax: (402) 561-0598
www.bocatc.org
Athletic training majors usually sit for the Board of Certification Examination in April of their graduation year. Upon successful completion and fulfillment of graduation requirements, you will be a certified athletic trainer.
1955 N Union Blvd
Colorado Springs, Colorado 80909
Phone: (800) 815-6826
Fax: (719) 632-6367
www.nsca.com
The National Strength & Conditioning Association offers the only nationally accredited fitness certifications in the industry. Athletic training majors are eligible to sit for either of the two certifications offered by NSCA upon graduation.
NSCA Certified Strength and Conditioning Specialist
NSCA Certified Personal Trainer
Questions? Contact Us!
Dr. Donna Hoskins, Department Chair
540-828-5458
dhoskins@bridgewater.edu