The Queensland fruit fly, a major horticultural pest throughout eastern Australia, is responsible for causing extreme reduction in crop yields, amounting to almost $50 million lost annually in produce production. These flies are among the most damaging horticultural pests across the globe with major effects on the food supply chain.
This past summer, three Bridgewater College students–along with students from Eastern Mennonite University and James Madison University–tackled research related to this issue through the Tephritid fruit fly Multidisciplinary Australian Research Collaboration for Biosecurity (T-MARC BIO) initiative under the National Science Foundation's International Research Experiences for Students program (NSF IRES). Dr. Matthew Siderhurst, Professor of Chemistry at EMU, serves as principal investigator of the initiative, which is funded by a three-year $300,000 NSF grant and will allow 18 undergraduate students from area colleges (six per year for three years) to gain multidisciplinary research experience.
Bridgewater seniors Emily Schloss '23, Mary Ruth Shifflett '23 and Allison O'Brien '23 each focused on a different part of the initiative, which includes research into fruit fly physiology and behavior, organic analysis and synthesis of fruit fly lures, and field ecology and management techniques. All three say their previous research experiences with Bridgewater professors prepared them to perform meaningful research that had direct effects on a real-world problem.
Schloss, a biology major, worked on a couple different research projects throughout the summer in an applied bio sciences lab under the direction of Dr. Soo Jean Park. Schloss and her lab partner, JMU student Jacqueline Kossey, were hosted by Macquarie University, in Sydney.
The first project tested emissions from blowfly larvae, which is a similar pest to the fruit fly. Tests of the compounds the larvae emitted, including ammonia, serve to help develop protective gear for the scientists who work with the insects. The second project Schloss worked on focused on the Queensland fruit fly and how to stop the flies from laying eggs inside produce.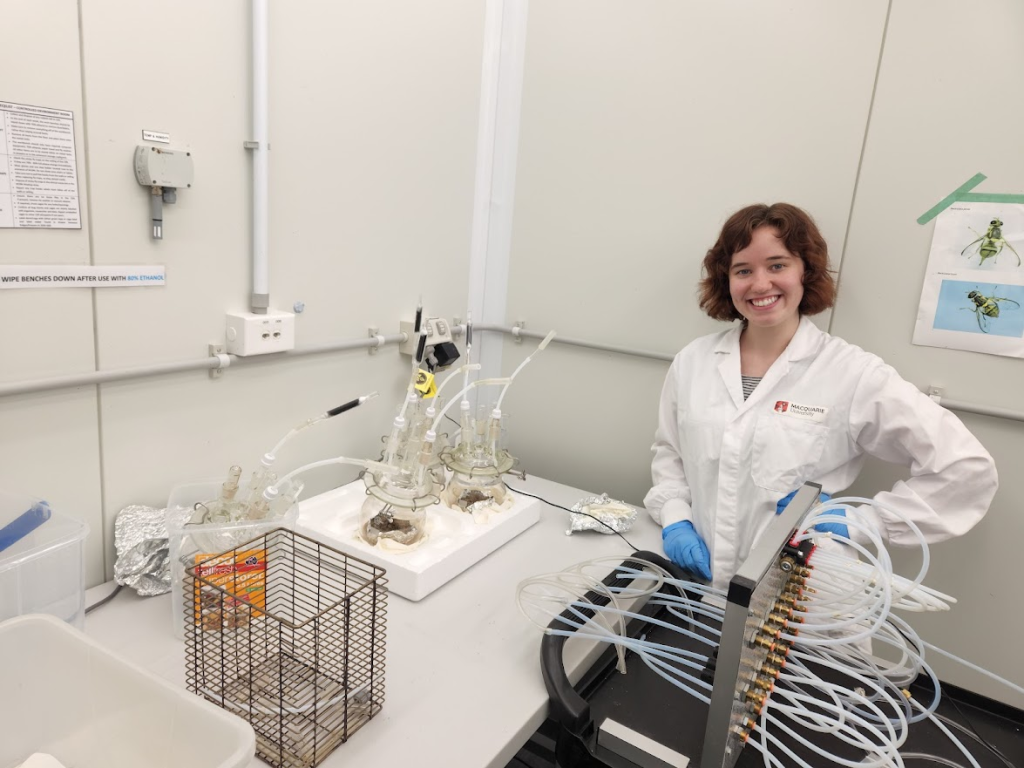 For the project, Schloss' team looked at isolating a repellent that would prevent the fly from destroying produce crops. The repellents weren't completely effective, but they did reduce the average number of eggs laid. "It was a scientifically mind-opening experience to see how different people think about different concepts and how they approach and solve problems," Schloss says.
At Bridgewater, Schloss was first introduced to research in Associate Professor of Biology Dr. Moshe Khurgel's Biology 110 class. A class project on digestive enzymes sparked her curiosity, and she has since worked with Khurgel on multiple projects related to his research on limb regeneration in axolotls. Schloss, who completed a summer 2021 The Research Experience @ Bridgewater project with Khurgel and who did further axolotl research with him this past fall, says the research knowledge gained at Bridgewater prepared her well for her summer experience abroad.
"I think a big advantage that I have (over my student counterparts from other schools) is that I was able to be independent in the research I was doing at Bridgewater," Schloss says. "I'm involved with the design of the experiments and am involved every step of the way; I get to make decisions about what I want to do. It gives me the independence of thought that a lot of larger schools don't have when it comes to research."
After graduation, Schloss plans to attend graduate school to earn a Ph.D. in the field of regenerative biology.
"Teaching would be the goal for me," she says. "It's about sharing knowledge and figuring stuff out and being able to disseminate that to as many people as I can."
Shifflett, a biochemistry major, was also stationed at the applied biosciences lab affiliated with Macquarie University, but her research focused on chemical education. Shifflett and her lab partner, EMU student Laura Craft, worked with the National Indigenous Science Education Program (NISEP) to help bridge the gap between lower socioeconomic groups and science education. Shifflett hosted educational day camps for students, which allowed them to take part in hands-on activities.
"I learned a lot about how to reach out to communities and give back," Shifflett says. "That's something I've always been interested in, in terms of science. This opportunity showed how science can be fun; it can be easy, engaging and interactive."
At Bridgewater, Shifflett has worked on research projects with Associate Professor of Chemistry Dr. Kenneth Overway and Assistant Professor of Chemistry Dr. Barnabas Otoo and has presented her work at multiple conferences, including the national American Chemical Society conference last spring. Both professors taught her lab knowledge and helped build her confidence to take the initiative to fix any problems as they arose.
"Anytime you do any sort of research, it's the process of learning how to fail, then troubleshoot, then try again," Shifflett says. "The more experience you gain, the more knowledge you have, and it allows you to be open to learning new things. It's just a learning process."
After graduation, Shifflett plans to get her Ph.D. to do further research and teach.
"I really enjoy education and giving back," she says. "I'm passionate about chemical education and helping people enjoy chemistry."
Meanwhile, O'Brien, a biology and environmental science double major, was stationed at the Queensland Department of Agriculture and Fisheries in Mareeba, Queensland. Her research, which combined aspects of biology, environmental science and chemistry, focused on field work conducted on fruit farms in the area. O'Brien was paired with EMU student Anika Hurst, and they spent their days trapping, tagging and tracking the Queensland fruit fly to better understand its behavior and flight patterns. On occasion, O'Brien received visits from wild kangaroos and wallabies during her work.
"This research was so amazing, and I had such a fun time doing it," O'Brien says. "I love working outside, and it was an incredible experience getting to work in such a beautiful place."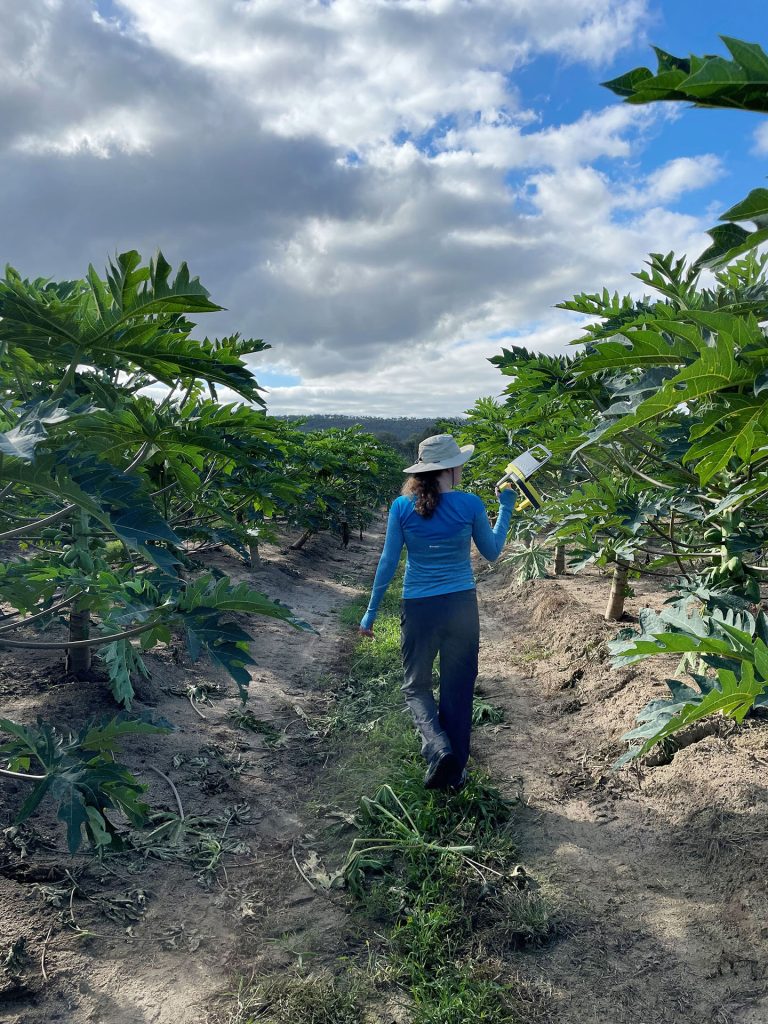 O'Brien's research work during her sophomore year with Associate Professor of Biology and Environmental Science Dr. Timothy Kreps prepared her well for this type of research. That project focused on testing pest management controls for the cucumber beetle. She has also assisted Harry G.M. Jopson Professor of Biology Dr. Stephen Baron in his research on a newly identified species of streptomyces bacteria, studying the effects of temperature, pH and salt concentration. That work led to co-authorship on a published paper in the International Journal of Systematic and Evolutionary Microbiology. In addition, she has completed two independent group research projects under Baron and Associate Professor of Biology and Environmental Science Dr. Kim Bolyard.
"I would not be half the student or person I am today without my professors, especially within the Biology and Environmental Science Department," O'Brien says. "They have challenged and pushed me but at the same time given me all the tools to achieve and conquer these challenges. At a larger school, I would not have gotten to make all of these meaningful relationships and connections with my professors and definitely would not have gotten all of these research opportunities as an undergraduate."
O'Brien says the Australia research opportunity solidified her plans to work in the conservation field, potentially for the U.S. Fish and Wildlife Service, Environmental Protection Agency or National Park Service.
"It was such an amazing research opportunity to be a part of, and I'm thankful for Bridgewater College for being the reason I was introduced to it and was prepared for it," O'Brien says.
— By Jessica Luck
jluck@bridgewater.edu